The Rallycross RX2e championship is the leading 100% electric category among the support categories of the FIA World Rallycross championship. It is designed for rising motorsport stars, with the main objective of facilitating the ascent of the drivers to higher professional categories, as World RX, Rally Raid or other off- road international series.
R5 | August 19th and 20th
After the debut in 2021, QEV Technologies enters its third year as the promoter and exclusive supplier of the electric rallycross at the international level. The vehicles developed and built by QEV Technologies, commercially known as ZEROID X1, have been in different contests as the Nordic Rallycross championship, the Race Of Champions (ROC) or the GSeries (Andorra), among others.
The development of ZEROID X1, took place in circuits such as Châteauroux, Nysum, Höljes, Piteä, Circuit de Barcelona-Catalunya and Calafat, and over 25 drivers provided feedback and information on the prototype's performance.
Since RX2e made its debut in World RX, it has attracted no fewer than 32 drivers who have competed in thrilling battles to claim victory. Among the competitors, there are prominent sport figures as Aksel Lund Svindal, olympic gold medallist in skiing, Laia Sanz, fourteen-time Women's Trial World Champion of the FIM, Nick Heidfeld, who won several Formula 1 podiums, or Carlos Checa, World SBK champion. The championship also featured a series of young rising talents; Klara Andersson has reached the highest level in World RX, and the winner of the RX2e championship in 2022, Viktor Vranckx, doesn't hide his desire to take a similar step in the upcoming years.
One of the key attractions of this single-make series is that the emphasis is on the driver's skill behind the wheel, with skill and ingenuity being prioritised above all else. The competitors pit against each other in identical vehicles with four-wheel drive, 100% electric, capable of generating over 270kW (362 CV) of power and up to 510 Nm of torque.
This represents a significant improvement compared to the Supercar Lites, the predecessor combustion category of RX2e, and closes the gap with the premier category of the FIA World Rallycross Championship.
Building on the success of its first two seasons, the FIA RX2e Championship will usher in a new era in 2023 with the introduction of significant changes to ensure its long-term future. The electric category began as an 'arrive-and-drive concept', following the idea of bringing electric technology closer to as many drivers as possible. Due to its success, RX2e will become a team championship for this third season, allowing private teams to purchase or rent cars and manage their own team.
RX2e cars developed by QEV Technologies will be competing in the last two rounds of WRX
Nils Andersson becomes 2023 RX2e Champion as Hallman secures his second win
Chinese driver Zhang Yan joins for RX2e's last round in Estering
Suppliers of the championship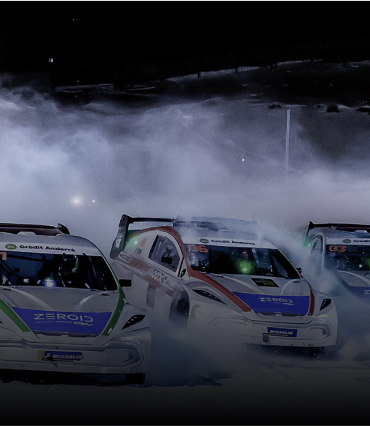 Exclusive suppliers and championship organizers
Participation alongside Andretti Avalanche FE Team
Technical partners of the ACCIONA Sainz XE Team
Suppliers of the championship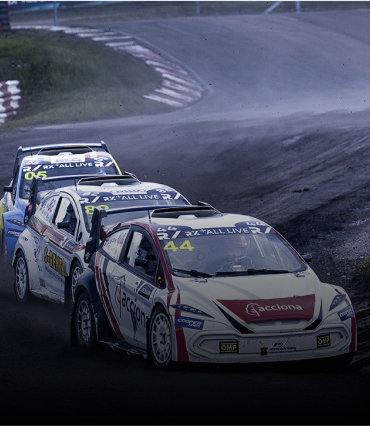 Exclusive suppliers and championship organizers