ABOUT E-KIT
E-kit is a collection of electric powertrain elements that comprise an entire propulsion system to electrify a vehicle. It can be used in conversion of combustion-engine vehicles or as an 'off-the-shelf' system to produce new electric vehicles. The concept was created early in 2017 to tackle a pollution problem caused by conventionally-powered Jeepneys in the Philippines. E-kit includes the motor, inverter, gearbox, cooling, charging, battery pack and all electronics needed to convert a combustion-engine vehicle or produce a new, fully-electric vehicle.
BATTERY 30 KWH
AIR COOLED
MOTOR POWER 30KW CONTINUOUS
LIQUID COOLED
COMET
COMET was launched in 2019 in Manila (Philippines). It is a fully electric city bus with capacity for 30 passengers. In the city of Manila, COMET provide public transport service. The COMET 3 model serves a fleet of 7 vehicles in the city of Davao and 4 vehicles in Manila. The COMET 4 is marketed RHD in Malaysia. We are currently marketing the new COMET 5 version, an improved version of its COMET 1, 2, 3 and 4 predecessors, which is now homologated for Europe and different Asian countries.
E-TITÁN
The E-TITÁN is the first 100% electric urban bus in Peru with its powertrain developed by QEV Technologies in Barcelona and manufactured locally by Modasa. With the latest technologies and innovations, the E-TITÁN has come to give a sustainability spin to these cities. QEV Technologies has developed a complete electrical platform adaptable to the needs of each client and market.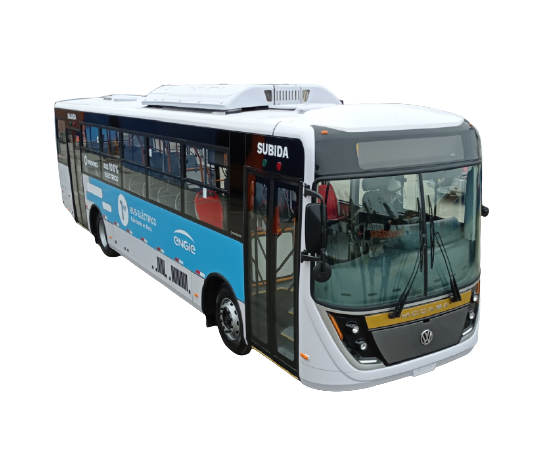 NEW MARKETS
We offer a solution for many emerging countries with similar development environments and challenges as the Philippines – dense cities with a form of mini bus the main form of transportation. The market potential is enormous – in the Philippines alone, there are 300,000 Jeepneys. Besides the Philippines, we have already made progress in India, South Africa, Peru and Mexico. We are looking for partners to expand our services to other potential markets.